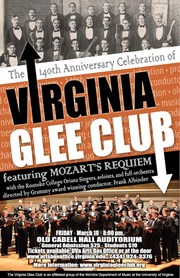 The
140th Anniversary Concert of the Virginia Glee Club
was held March 18, 2011 as part of the
140th Anniversary Weekend
. Conducted by
Frank Albinder
as part of the
Glee Club 2010-2011 season
, the concert featured a performance of the
Mozart
Requiem
, with a guest appearance by the
Roanoke College Oriana Singers
, as well as an opening set of traditional Glee Club repertoire.
The concert program featured a number of articles on Glee Club history, as well as a listing of all known Glee Club alumni.
A recording of this concert is available at the University of Virginia Library.
Tshotsholoza (arr. Jeffrey L. Ames)
Sicut cervus (Giovanni Pierluigi da Palestrina)
Sydämeni laulu (Jean Sibelius)
Zikr (A.R. Rahman, arr. Ethan Sperry) (Michael Belote & Aki Ko, guitar; Ben Gonzalez, djembe)
Virginia, Hail, All Hail (Traditional)
The Good Old Song (Traditional)
Requiem (Wolfgang Amadeus Mozart, K. 626)
Program images
Edit
Ad blocker interference detected!
Wikia is a free-to-use site that makes money from advertising. We have a modified experience for viewers using ad blockers

Wikia is not accessible if you've made further modifications. Remove the custom ad blocker rule(s) and the page will load as expected.