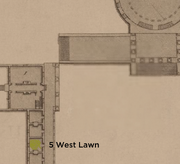 5 West Lawn, one of the original student rooms designed by Thomas Jefferson on the University of Virginia Lawn, was for many years associated with the Virginia Glee Club and the Virginia Gentlemen. While not an endowed room, it has been occupied by a Glee Club member 24 recorded times, including a period of continual occupancy from 1973 to 1994.
5 West Lawn is located between Pavilion I and Pavilion III on the west side of the Lawn, along the top terrace near the Rotunda. In addition to its Glee Club association, its principal claims to historical interest are the signing of the Jefferson Literary and Debating Society Constitution on July 18, 1825,[1] and temporary use as the office of the Chairman of the Faculty (William Thornton) after the 1895 Rotunda fire.[2]
Glee Club Residents of 5 West Lawn
Edit
References
Edit
Ad blocker interference detected!
Wikia is a free-to-use site that makes money from advertising. We have a modified experience for viewers using ad blockers

Wikia is not accessible if you've made further modifications. Remove the custom ad blocker rule(s) and the page will load as expected.