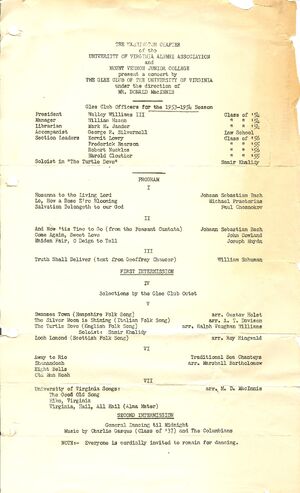 The 1954 Alumni Concert in Washington, D.C. of the Virginia Glee Club was conducted by Donald MacInnis as part of the Glee Club 1953-1954 season. Jointly sponsored by the Washington Chapter of the UVA Alumni Association and Mount Vernon Junior College, the concert featured selections from the Virginia Gentlemen and a post-concert dance with music from Charlie Gasque and the Columbians, led by former Glee Club president Charles W. Gasque.
Ad blocker interference detected!
Wikia is a free-to-use site that makes money from advertising. We have a modified experience for viewers using ad blockers

Wikia is not accessible if you've made further modifications. Remove the custom ad blocker rule(s) and the page will load as expected.