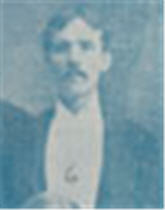 Bernard W. Moore (April 12, 1871 in Lynchburg, Virginia – January 22, 1911 in St. Louis, Missouri)[1][2] was president of the Virginia Glee Club during the 1893-1894 season, generally considered the beginning of modern Glee Club history. As president, he led the group on its first major tour. He was also a member during the Glee Club 1892-1893 season.
At Virginia, Moore was a medical student,[3]having done his undergraduate education at Washington College in Lexington, Virginia, where he was a member of the Kappa Alpha fraternity.[4] He was also a member of the Thirteen Club, initiated in 1894 along with Duncan Lawrence Groner, Ed. F. Mayberry, and James H. Paxton.[5]
After Virginia, he established his medical practice in St. Louis, Missouri, where he became Chief of Clinic of Bethesda Maternity Hospital at Washington University of St. Louis.[1] He was suddenly taken ill with pneumonia in January 1911 and died in his home at the age of 39.[2]
References
Edit
Ad blocker interference detected!
Wikia is a free-to-use site that makes money from advertising. We have a modified experience for viewers using ad blockers

Wikia is not accessible if you've made further modifications. Remove the custom ad blocker rule(s) and the page will load as expected.