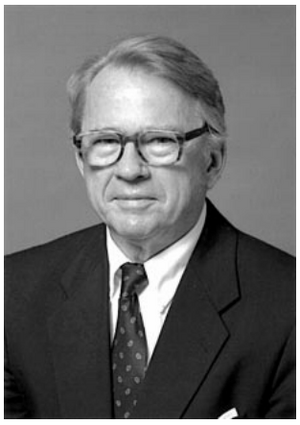 Charles Edwin Butterworth, Jr. (1922 - August 3, 1998) was president of the Virginia Glee Club during the 1942-1943 season, during which the Club premiered Randall Thompson's The Testament of Freedom.
Born in Lynchburg, Butterworth completed an undergraduate and a medical degree at Virginia, graduating with his M.D. in 1948. While at Virginia, in addition to his presidency of the Virginia Glee Club, he also sang in the Tin Can Quartet, was managing editor and editor in chief of College Topics, and was a member of the Raven Society, as well as receiving the Jabberwock Award.[1] He resided on the Lawn between 1944 and 1946 (7 West Lawn[2] and 8 East Lawn[2]).
He served in the US Army during the Korean conflict and remained in the Army until 1958, when he joined the faculty at the University of Alabama in Birmingham. He eventually rose to chairmanship of the Department of Nutrition Sciences there.[3]
References
Edit
Ad blocker interference detected!
Wikia is a free-to-use site that makes money from advertising. We have a modified experience for viewers using ad blockers

Wikia is not accessible if you've made further modifications. Remove the custom ad blocker rule(s) and the page will load as expected.