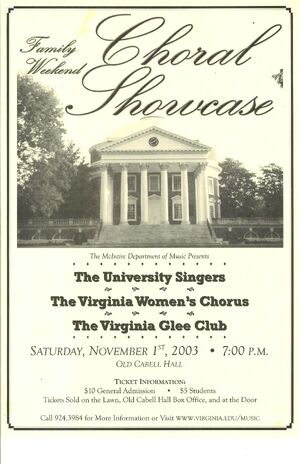 The 2003 Choral Showcase was a joint concert featuring the Virginia Glee Club (Frank Albinder, conductor), University Singers (Michael Slon, conductor), and Virginia Women's Chorus. Held November 1, 2003 in Old Cabell Hall, the concert featured performances from all three groups, in lieu of the Glee Club's normal fall concert for the Glee Club 2003-2004 season.
A recording of this concert is available at the University of Virginia Library.
Cantate Domino / Hans Leo Hassler
Chorale from Finlandia / Jean Sibelius, arr. H. Alexander Matthews
Waitin' for the dawn of peace / arr. Ron Jeffers
Shenandoah / arr. James Erb
Dúlamán / Michael McGlynn
Hymn to the water / Gustav Holst
Lift thine eyes / Felix Mendelssohn
Maid on the shore / Stella Goud
This little babe / Benjamin Britten
Magnificat / Arvo Pärt
Os justi / Anton Bruckner
At the river / Aaron Copland
Precious Lord, take my hand / Merman, Allen, Dorsey, arr. Roy Ringwald
The promise of living / Aaron Copland
The good old song / E.A. Craighill
Ad blocker interference detected!
Wikia is a free-to-use site that makes money from advertising. We have a modified experience for viewers using ad blockers

Wikia is not accessible if you've made further modifications. Remove the custom ad blocker rule(s) and the page will load as expected.