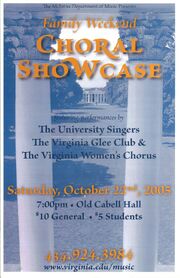 The 2005 Choral Showcase featured performances by the Virginia Glee Club (Frank Albinder,conductor), University Singers and the Virginia Women's Chorus. Held October 22, 2005 on Family Weekend in Old Cabell Hall, it was the first concert of the Glee Club 2005-2006 season.
A recording of this concert is available at the University of Virginia Library.
Brothers, sing on! / Edvard Grieg, arr. Howard D. McKinney
Ave maris stella / Edvard Grieg, arr. H. Alexander Matthews ; Pirika, pirika / Ainu folk song, arr. Osamu Shimizu ; Danny boy / traditional Irish, arr. patrick Dupré Quigley ; Ride the chariot / arr. William Henry Smith (Virginia Glee Club ; Mark Grey-Mendes, Jonah Lampkin, soloists (in the 5th work))
Alleluia : from the Montpellier codex ; She walks in beauty / Mychael Danna ; Dirait-on : from Les chansons des roses / Morten Lauridsen ; Aires de quisqueya / traditional Dominican, arr. Pascale Denis and Laurina Vásquez (The Virginia Women's Chorus)
Lux aurumque / Eric Whitacre ; Irish tune from County Derry / arr. Percy Grainger ; Panda chant II / Meredity Monk ; Jesus lay your head in the window / arr. Moses Hogan ; Pilgrims' hymn / Stephen Paulus (University Singers ; UVa Chamber Singers (in the 3rd work) ; Lauren Jenkins, soloist (in the 4th work))
Hallelujah chorus / G.F. Handel ; Ten thousand voices / arr. MacInnis/Loach/Slon ; The good old song / E.A. Craighill (Combined choirs)
Ad blocker interference detected!
Wikia is a free-to-use site that makes money from advertising. We have a modified experience for viewers using ad blockers

Wikia is not accessible if you've made further modifications. Remove the custom ad blocker rule(s) and the page will load as expected.