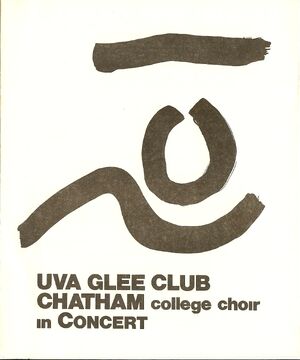 The 1976 Fall Concert of the Virginia Glee Club, billed as a Chorkonzert because of its focus on German choral music, was conducted by Donald Loach as part of the Glee Club 1976-1977 season. Held in Old Cabell Hall on November 14, 1976, the concert featured the Chatham College Choir, Margaret Ross conductor.
The concert featured music of the Renaissance and Baroque (Peuerl, Lassus, and Heinrich Schütz), and romantic lieder, including song cycles by Paul Hindemith, Robert Schumann, and a performance of the Liebesliederwaltzen of Johannes Brahms.
A recording of this concert is available at the University of Virginia Library.
O musica, du edle Kunst / Paul Peuerl
De profundis / Orlandus Lassus
Cantate domino ; Die mit traenen Säen ; Meine Seele erhebt den Herren / Heinrich Schuetz (Paul Atinello, bassoon ; Dan Via, contrabass ; James Richardson, harpsichard)
Five songs on old texts / Paul Hindemith
Romanzen, op. 91, nos. 8 and 12. Jäger Wohlgemuth ; In Meeres Mitten / Robert Schumann
Canonic ritornelle, op. 65, no. 7, In Meeres Mitten ; Sechs Lieder, op. 33, no. 6, Frühlingsglocken / Robert Schumann
Liebesliederwalzer, op. 52, nos. 2, 3b, 4, 5, 6, 9, 11, 12. Am Gesteine rauscht die Flut ; O die Frauen ; Wie des Abends schöne Röte ; Die grüne Hopfenranke ; Ein kleiner, hübscher Vogel ; Am Donaustrande ; Nein, es ist nicht auszukommen ; Schlosser auf! / Johannes Brahms
Ad blocker interference detected!
Wikia is a free-to-use site that makes money from advertising. We have a modified experience for viewers using ad blockers

Wikia is not accessible if you've made further modifications. Remove the custom ad blocker rule(s) and the page will load as expected.