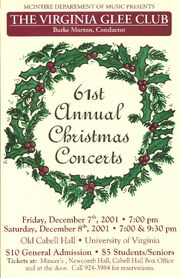 The 2001 Christmas Concert of the Virginia Glee Club was conducted by Burke Morton as part of the Glee Club 2001-2002 season. Held December 7 and 8 in Old Cabell Hall, the concert featured the Virginia Gentlemen as guests.
O come, o come Emmanuel (plain song melody)
Pater Noster (Albert de Klerk (1917-1998))
O Crux Benedicta (Cipriano de Rore (1515?–1565))
O Magnum Mysterium (Jacob Handl (1550-1591))
In the Bleak Mid-Winter (Gustav Holst (1874-1934))
Salvation is Created (Pavel Chesnokov (1877-1944), arr. Archibald Thompson Davison)
The Boar's Head (XV century, arr. Sir Arnold Bax (1883-1953))
Lord, Now Lettest Thou Thy Servant (Alexander Gretchaninoff (1864-1956), arr. Burke Morton)
Audience Carol: Come All Ye Faithful
Jesus, Jesus, Rest Your Head (Southern Appalachian carol, arr. K.J. Dinham)
Skit
A Merry Christmas (English West Country Traditional Song, arr. Arthur Warrell)
The Virginia Gentlemen
Saltarelle, Op. 74 (Camille Saint-Saëns (1835-1921))
Audience Carol: The Twelve Days of Christmas
Winter Song (Frederic Field Bullard (1864-1904))
Audience Carol: Joy to the World!
Ave Maria (Franz Biebl (1906-2001))
Audience Carol: Silent Night
Dona Nobis Pacem (attributed to William Byrd (1543-1623))
Ad blocker interference detected!
Wikia is a free-to-use site that makes money from advertising. We have a modified experience for viewers using ad blockers

Wikia is not accessible if you've made further modifications. Remove the custom ad blocker rule(s) and the page will load as expected.