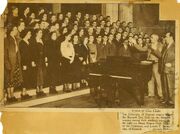 The
1936 Virginia Glee Club Concert at Barnard College
was conducted by
Harry Rogers Pratt
as part of the
New York City Tour (1936)
. The tour was the main activity of the
Glee Club 1935-1936 season
, billed as the 50th anniversary season based on a chronology that dated the Glee Club's existence to 1886 rather than 1871.
The concert was held in Barnard Hall at Barnard College on February 27, 1936 and featured the Barnard College Glee Club under the direction of Professor Lowell P. Beveridge.
Virginia, Hail, All Hail (J.A. Morrow '21) (VGC)
Popule Meus (Improperia) (Palestrina) (VGC)
Crucifixus (Lotti) (VGC)
Lullaby (Brahms) (VGC)
Dedication (Franz) (VGC)
Bourée (J. S. Bach) (Alfred Pew, piano)
Vill Du Komma Med Mig (Jarnefelt) (first performance in America) (Rial Rose and Octet)
Hospodi Pomiloi (Lord Have Mercy) (Lvovsky) (VGC)
Jerusalem ("And Did Those Feet in Ancient Times") (Parry) (BGC)
Four Arms, Two Necks, One Wreathing (Weelkes) (BGC)
Strike It Up, Tabor (Weelkes) (BGC)
Four Liebeslieder Waltzes (Brahms) (BGC)
Oh, Susannah (Stephen Foster) (VGC)
Massa's in De Cold, Cold Ground (Foster) (VGC)
Poor Wayfaring Stranger - a white spiritual from the Southern Mountains (arr. H. R. Pratt) (Guy Hope and octet)
Polinchinelle (Rachmaninoff) (Alfred Pew, piano)
Ode to Big Business (Daniel Gregory Mason) (VGC)
Hoodah Day (arr. Marshall Bartholomew) (VGC)
What Shall We Do With a Drunken Sailor? (arr. M. Bartholomew) (VGC)
And Now 'Tis Time to Go and Spend an Hour or So in Drinking (J. S. Bach) (VGC)
The Good Old Song (E.A. Craighill, '95) (VGC)
Ad blocker interference detected!
Wikia is a free-to-use site that makes money from advertising. We have a modified experience for viewers using ad blockers

Wikia is not accessible if you've made further modifications. Remove the custom ad blocker rule(s) and the page will load as expected.