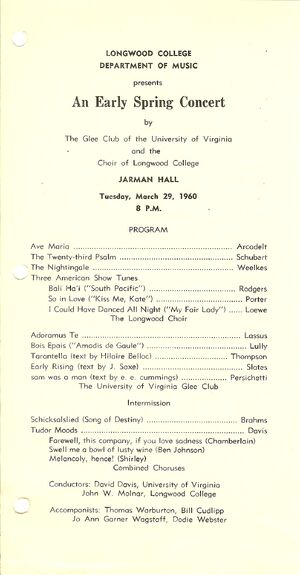 The Virginia Glee Club 1960 concert at Longwood College was conducted by David Davis as part of the Glee Club 1959-1960 season. Held March 29, 1960 in Jarman Hall at Longwood College, the concert was a collaboration with the Longwood College Choir.
Ave Maria (Jacques Arcadelt, arr. N.G.) (LCC)
Twenty-third Psalm (Franz Schubert, arr. L.V.S.) (LCC)
The Nightingale (Thomas Weelkes, arr. H.L.) (LCC)
Three American Show Tunes (LCC)
Adoramus Te (Orlandus Lassus, arr. S.D.T) (VGC)
Bois épais (Jean Baptiste Lully, arr. C.S.) (VGC)
Tarantella (Randall Thompson (1937)) (VGC)
Early Rising (to a text by John Godfrey Saxe) (Philip Slates (1954)) (VGC) (First performance)
sam was a man (to a text by e.e.cummings) (Vincent Persichetti (1948)) (VGC)
Schicksalslied (Song of Destiny), Op. 54 (Johannes Brahms, ca. 1871) (VGC/LCC/MS)
Tudor Moods (Three Tudor English Poems) (David Davis) (VGC/LCC/MS)

Farewell this company, if you love sadness (Robert Chamberlain)
Swell me a bowl with lusty wine (Ben Johnson)
Melancholy, hence! (James Shirley)
Ad blocker interference detected!
Wikia is a free-to-use site that makes money from advertising. We have a modified experience for viewers using ad blockers

Wikia is not accessible if you've made further modifications. Remove the custom ad blocker rule(s) and the page will load as expected.