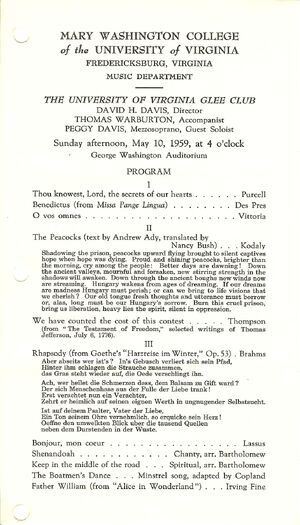 The 1959 Virginia Glee Club Concert at Mary Washington was conducted by David Davis as part of the Glee Club 1958-1959 season.
Thou knowest, Lord, the secrets of our hearts (Purcell)
Benedictus (from Missa Pange Lingua) (Des Pres)
O vos omnes (Vittoria)
Rhapsody (from Goethe's "Harzeise im Winter," Op. 53) (Brahms)
Bonjour, mon coeur (Lassus)
Shenandoah (chanty, arr. Marshall Bartholomew)
Keep in the middle of the road (Spiritual, arr. Bartholomew)
The Boatmen's Dance (Minstrel song, adapted by Copland)
Father William (from "Alice in Wonderland") (Irving Fine)
Ad blocker interference detected!
Wikia is a free-to-use site that makes money from advertising. We have a modified experience for viewers using ad blockers

Wikia is not accessible if you've made further modifications. Remove the custom ad blocker rule(s) and the page will load as expected.