The 1934 Virginia Glee Club concert at St. Catherine's (held April 23, 1934) was directed by Harry Rogers Pratt as part of the Glee Club 1933-1934 season and featured a mix of spirituals, classic men's chorus music, and accordion solos.
Netherlands Prayer of Thanksgiving
Three "Spirituals":

Deep River (Burleigh)
Lo, How a Rose (Praetorius)
Adoramus Te (Praetorius)

Bouree in A Minor (Bach) (Fritz Nolting, pianist)
Four Waltzes (Brahms) (Nolting)
Songs My Mother Taught Me (Dvorak)
Hospodi Pomilui (Russian)
Three Finnish Folk Songs

Poor Little Girl
Summer Evenings (solo by A. G. Hope)
I'm Coming Home

Six American Songs (Glee Club double quartet)

Down in the old Cherry Orchard
Bungalow
I Had a Dream, Dear
Bull Dog
Chinese Honeymoon
Going Over the Hills to Virginia

Accordion Solos (Wally Sulzer)

Blue Tango (Sulzer)
Love is the Sweetest Thing
St. Louis Blues

Green Grow the Rushes (English)
Old Ark's a Movin' (Negro)
Viking Song (Coleridge-Taylor)
Concert at St. Catherine's Gymnasium, April 23, 1934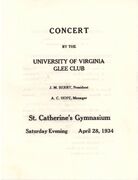 Program p. 1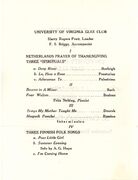 Program p. 2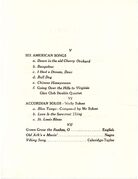 Program p. 3 
Ad blocker interference detected!
Wikia is a free-to-use site that makes money from advertising. We have a modified experience for viewers using ad blockers

Wikia is not accessible if you've made further modifications. Remove the custom ad blocker rule(s) and the page will load as expected.