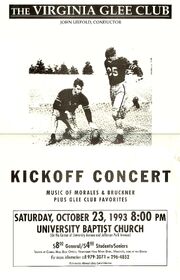 The
Virginia Glee Club 1993 Fall Kickoff Concert
, the commencement of the
Glee Club 1993-1994 season
, was held in University Baptist Church on October 23, 1993.
John Liepold
conducted the group. The concert included performances of the "Kyrie" and "Gloria" movements of the Missa "Ave Maria" by Cristobal de Morales; the Glee Club would go on to learn the entire mass and perform it throughout the season.
The concert featured a joint performance with the Mary Baldwin College Choir.
Mary Baldwin College Choir
Edit
Mary Baldwin College Choir/Virginia Glee Club
Edit
Three Madrigals (Emma Lou Diemer (b. 1927)

"Oh, Mistress Mine, where are you roaming?"
"Take, O take those lips away"
"Sigh no more, ladies, sigh no more"
Virginia Glee Club
Edit
1993 Fall Kickoff program
Cover  
Ads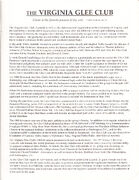 History  
Program 1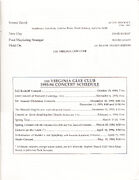 Program 2/Schedule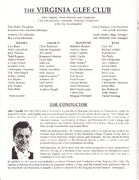 Roster/Conductor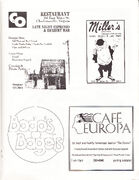 Ads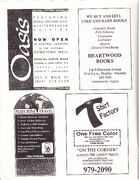 Ads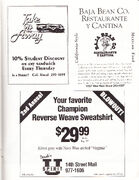 Ads  
Ads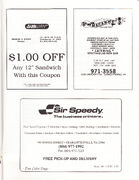 Ads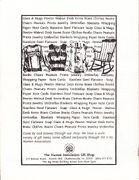 Ad  
Texts & Translations/Guest Roster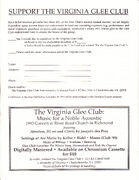 Support/Ad  
Program courtesy of the collection of Jeff Slutzky.
Ad blocker interference detected!
Wikia is a free-to-use site that makes money from advertising. We have a modified experience for viewers using ad blockers

Wikia is not accessible if you've made further modifications. Remove the custom ad blocker rule(s) and the page will load as expected.