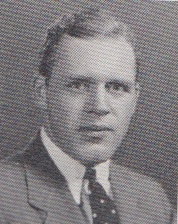 Ezra Frantz Hershey, Jr. (b. March 24, 1916 in Hershey, Pennsylvania; died May 21, 2003 in Henrico County, Virginia)[1] was the president of the Virginia Glee Club during the Glee Club 1938-1939 season. He also served as Manager during the Glee Club 1936-1937 season and Glee Club 1937-1938 season.
Hershey's father, Ezra Frantz Hershey, was a first cousin of chocolate maker Milton Hershey and served as treasurer of the Hershey Chocolate Company. While at the University, Ezra Frantz Hershey, Jr. was a member of Phi Gamma Delta and Lambda Pi.[2]
References
Edit
Ad blocker interference detected!
Wikia is a free-to-use site that makes money from advertising. We have a modified experience for viewers using ad blockers

Wikia is not accessible if you've made further modifications. Remove the custom ad blocker rule(s) and the page will load as expected.