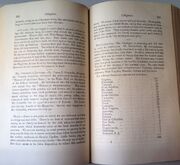 The
1870-1871 season of the Virginia Glee Club
is the earliest season of the Glee Club attested by the record. The origin of the Glee Club is cited in a
Virginia University Magazine
editorial from January 1871:
There is one point on which we are deficient, and that is college musical groups. There is no lack of instrumental talent among us, as clearly evidenced by the soft, plaintive strains of violin music which frequently enter at the back window of our sanctum. We are not wanting in vocal powers, as proven by the deep sounds that rise in sweet cadence from below us, and also by the sudden outbursts of Shoofly, Upudee, Little Brown Jug, and other melodies that occasionally startle "the drowsy ear of night." But there seems to be little disposition to collect this scattered talent. We know of but one exception to this rule. Those gentlemen rooming at the Cabell House, and in that neighborhood, have made great efforts, and we understand tolerably successful ones, to form a Glee Club. They certainly deserve great credit, and they should also command the hearty cooperation and good wishes of all who are not fit "for stratagems and spoils."[1]
The students who made up the Cabell House Men are unknown; the University catalog for that year does not list student addresses.[2]
References
Edit