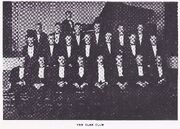 The 1922-1923 season of the Virginia Glee Club was under the direction of Arthur Fickenscher. Officers included Harry Glenn Kaminer, president; Fred N. Ogden, vice-president; John Dismukes Green, manager; and Robert Lee Hinds, II, publicity.
In February 1923, Kaminer announced plans to perform in Washington, Baltimore, Sweet Briar, Lynchburg, Richmond, Newport News, and the resorts at White Sulphur and Hot Springs. The spring concert was the first to be performed in Old Cabell Hall for several years, returning after several performances in the Jefferson Theatre. Rehearsals were held in Madison Hall, and the plan was to offer a program "modelled along the same style and lines as the Amherst College Musical Clubs" that mixed "music, songs, dancing, and vaudeville skits."[1]
This roster is as of the 1923 Corks and Curls and may not include all members who participated in the season.
Edgar H. Rowe, Randolph Conroy, Harry Glenn Kaminer, Robert Lee Hinds, Ezekiel Samuel Candler, Charles O. Conrad, Edmund R. Rutledge, David Louden Black, Walter G. Stephenson, George C. Saunders, Henry Jefferson Lawrence, Samuel Cheek, Lyttleton Waddell, Lucien Dent, A.E. Waller, A.K. Eagle, E.F. Fredericks, Walter Saunders, Martin Lewis, James V. Daniel, John Dismukes Green, Lewis Hager, Fred N. Ogden, Fulton Lewis, Jr., C.B.M. O'Kelley, R.T. Marsh, Felix Williams, James W. Jervey, Samuel Jackson, Harris Davenport, Daniel E. Huger, Launcelot Dent, H.W.R. Biers, C.H. Ballard, Charles O'Farrell, H.M. Lloyd, B.F. Hart
Additional members listed in subsequent Corks and Curls as participating in the season include:
References
Edit
Ad blocker interference detected!
Wikia is a free-to-use site that makes money from advertising. We have a modified experience for viewers using ad blockers

Wikia is not accessible if you've made further modifications. Remove the custom ad blocker rule(s) and the page will load as expected.