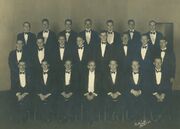 The
Virginia Glee Club 1928-1929 season
was under the direction of
Arthur Fickenscher
. Officers included
E. D. Brooke
, president and business manager, and
Henry Ayers
, advertising manager.
[1]
The Glee Club held a number of performances in the greater Washington area, achieving some press coverage in the Washington Post, Washington Times, Washington Evening Star, and Baltimore Sun.[2] The final concert of the season, held April 13, 1929, was a joint concert with the Harrisonburg State Teachers' College Glee Club.[3]
This roster is complete as of the 1929 Corks and Curls and may not include all who participated in the season.
First tenors: Henry Ayers, J.J. O'Donnel, Freyhan Odenheimer, H.B. Price, Jr., W.E. Lloyd, J.R. Treganza, E.A. Powell, Jr.
Second tenors: E. D. Brooke, J.L. Ellis, L.C. Mattison, Rodgers Meyer, F.E. Beachley, R.A. Newman, E.M. Struhan
First bass: E.V. Benjamin, Jr., W.D. Cabell, B.S. Davis, Gerald Flaum, J.R. Leatherbury, C.G. Harris, G.E. Fogg, G.R. McMahon, H.L. Morganroth, Harry Barsky, F.W. Smith
Second bass: F.S. Hilder, W.R. Holmes, D.R. Creecy, Jr., S.R. Tyler, Jr., Winston Phelps, J.F. Anderson, W.W. Clem, W.C. Dowden, G.A. Penick Jr., G.P. Wertenbaker, M.P. Williams
References
Edit