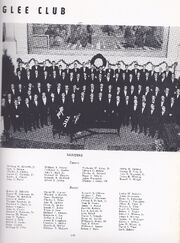 The 1949-1950 season of the Virginia Glee Club was directed by Stephen Tuttle. Performances included the 1949 Christmas Concert.[1] Officers were John C. Hall, Jr., president; Thomas Jefferson Smith, III, manager; and John Philip Talmage, librarian. Accompanists included Thomas Brierly, Jr. and George L. Jones, Jr.
The following roster is complete as of the 1950 Corks and Curls and may not include all members who participated in the season.
Tenors: William H. Albrecht, Jr, Jack R. Brown, Charles A. Chilton, Joseph H. Cochran, Jr., Robert L. Cooley, John G. Davis, William A. Forrest, Fred E. Garbee, John C. Hall, Jr., Howard O. Haverty, Kenneth A. Hedlund, Alfred B. Jarden, Frederick W. Johns, Jr., Edward C. Melton, Charles R. Sanford, Henry C. Schultz, Julien Shoemaker, Thomas Jefferson Smith III, Philip Hamilton Spencer, George B. Vest, Jr., John A. Warwick, Jr., James H. Whiting, Russell Alton Wright
Basses: Robert D. Albrecht, Ernest H. Alderman, Jr., Thomas M. Amsbron, Edwin P. Bailey, Thomas Burchett, Jr., Derwood S. Chase, Jr., Robert Clemons, Alan H. Crosby, Herbert A. Donovan, Jr., Barclay M. Dorset, John C. DuBois, Robert J. Field, Robert C. Forbes, Bruce Garden, William H. Giles, David W. Gurney, Winfield S. Harvin, Barry Hutchings, Charles L. Hyser, John R. Jackson, Owen H. Jander, Joseph C. Jerdee, Evans B. Jessee, Richard L. Johnson, Benjamin C. Lee, Arthur S. Lloyd, Joseph B. Loughran, Harrison L. McCoy, Marvin E. McCoy, William H. McLarin, Kenneth H. Okkerse, Graham L. Platt, William C. Plummer, Orland E. Pollock, Jr., James H. Powell, Paul M. Robbins, Lon E. Roberts, II, John Rybolt, Carlos E. Santago, Bruce Geoffrey Saville, William L. Sibley III, Fred T. Sickert, William C. Spence, Robert F. Stone, Luther Warren Strickler, Bruce A. Talmadge, Charles C. Tarkenton, Albert R. Tobe, Jr., Warren I. Titus, Frank G. Townes, Robert T. Tuttle, Samuel L. Walton, Jr., James S. Weaver, Berkley E. Williams, John D. Wyser, Jr., David S. Yates, Earle Zehmer
References
Edit
Ad blocker interference detected!
Wikia is a free-to-use site that makes money from advertising. We have a modified experience for viewers using ad blockers

Wikia is not accessible if you've made further modifications. Remove the custom ad blocker rule(s) and the page will load as expected.