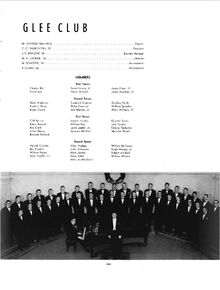 The 1952-1953 season of the Virginia Glee Club was conducted by Donald MacInnis. Officers included Charles C. Tarkenton, president; John Clifford Barlow, business manager; and Mark Jander, librarian. The accompanist was Roy Clark.
In the spring concerts of this season, the following officers are listed: Charles Bell, Jr., president and Roger Massey, Jr., business manager. It is unclear if these were elected for the 1953-1954 season or if they replaced Tarkenton and Barlow in the spring semester.
The roster below is as of the 1953 Spring Concert and may not include all participants in the season.
Charles Bell, Jr., Alvah Low, Kermit Lowry, Jr., James Piper III, James D. Vaughan, Jr., David Mitchell
Frederic Berry, Roger Dunne, Frederick Emerson, Philip Hancock, Sam Marney, Jr., Walley Williams III, David White, Wells Anderson, Godfrey Smith, Wilford Spradlin
Edwin Bennett, Roy Clark, Julian Dancy, George Fleshman, Bernard Holland, Joseph Hughes, Bill Key, Charles Lunt, Robert W. Nuckles, Quentin Smith, John Sutton, Malcolm Wyatt, Cliff Barlow, Laird Leeder, Jacques Mitchell, Charles Tarkenton
Harold Cloutier, Ben Franklin, William Hazen, Kilby Hodges, John Holmgren, Mark Jander, Dana Kelder, Malcolm MacLeod, William McSween, Roger Massey, Jr., Robert von Beck, William Whalen, John Highfill III
Ad blocker interference detected!
Wikia is a free-to-use site that makes money from advertising. We have a modified experience for viewers using ad blockers

Wikia is not accessible if you've made further modifications. Remove the custom ad blocker rule(s) and the page will load as expected.