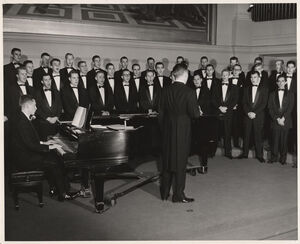 The 1955-1956 season of the Virginia Glee Club was conducted by Donald MacInnis. Officers included Alvin L. Pritchard, Jr., president; Lawrence L. McEvoy, Jr., manager; Stanley C. Baker and Robert H. Turner, assistant managers; Robert W. Nuckles, librarian, and Palmer S. Rutherford, Jr., assistant librarian. The accompanist was Barry Rogers and section leaders included James W. Feeley, D.M. Moore, Fred L. Somers, and James D. Vaughan, Jr..
Sometime prior to or during the season, the Club had a promotional 7" acetate made of recordings of repertoire from the prior two years, presumably with the intention of sending to radio stations as a promotional single. In April 1956 the Glee Club gave a radio performance on area radio station WTVR.[1]
This roster is complete as of the Concert at Mary Washington (1956) and may not include all participants in the season.
Tenors: Frederic Berry, Robert S. Bersch, James K. Collier, Jr., Leonard K. Drumheller, Frederick Emerson, Melvin E. Fuller, Cyrus Guynn, Samir Khalidy, Kermit Lowry, Jr., Alma Low, Sam Marney, John Mayo, Lawrence McEvoy, George Miller, Alvin L. Pritchard, Jr., Pete Runkel, Palmer Rutherford, George E. Stevens, James D. Vaughan, Jr.
Basses: Stanley C. Baker, John Barnes, Morton Boyd, Jr., Thomas Cantieri, Claude Crockett, Jr., Benjamin Duval, James W. Feeley, Charles R. Greer, William T. Hawkins, David G. Hubby, Darrell E. Jervey, Gordon E. Johns, William Knight, Laird Leeder, Robert Nuckles, Calvin W. Parker, Richard W. Pschirrer, John P. Sawyers, Fred L. Somers, Benjamin Sublett, Ryo Tanaka, David C. Tribby, Malcolm E. Turnbull, Robert H. Turner, Robert Von Beck, John A. Washington, Robert L. Wright
References
Edit
Ad blocker interference detected!
Wikia is a free-to-use site that makes money from advertising. We have a modified experience for viewers using ad blockers

Wikia is not accessible if you've made further modifications. Remove the custom ad blocker rule(s) and the page will load as expected.