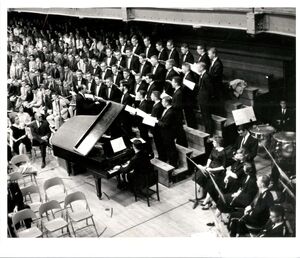 The 1959-1960 season of the Virginia Glee Club was directed by David Davis. Officers included Ben Fulton, president; Alex Crosman, assistant manager; Michael Stillman, business manager and publicity director; and Eugene F. Russell, III, librarian. Accompanists were Thomas Warburton and William Cudlipp, III.
This is the list of Glee Club members as of the Christmas Concert (1959) and may not include all members of the group during this season.
First tenors: Neil Davis, Joseph Murrie, James N. Pope, Wingfield Roberts, Leon H. Sample, Jr., Robert Velle
Second tenors: Russell H. Davis, James D. Benson, Woody Fitzgerald, Thomas F. Johnson, Charles Mabon, Thomas Moore, Hellmut Walter, Thomas Williams, Williard Winn
Baritones: Charles Twining, Victor Brungart, John C. Clary, William Cudlipp, III, T. Hoyt Drake, Tim Ferneyhough, Ben Fulton, Eugene Horn, Peter Kilcullen, Eric Loges, Ken Moorman, Russell Paul, Vito Perriello, Thomas Warburton
Basses: Hendrik Booraem, V, Alex Crosman, Robert Dawson, Rick Dennis, Charles D. Howell, Ray Hudnall, Eccles Pridgen, George M. Rogers, III, Eugene F. Russell, III, Mike Stillman, Stephen F. Turner
Ad blocker interference detected!
Wikia is a free-to-use site that makes money from advertising. We have a modified experience for viewers using ad blockers

Wikia is not accessible if you've made further modifications. Remove the custom ad blocker rule(s) and the page will load as expected.