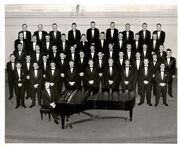 The 1960-1961 season of the Virginia Glee Club was under the direction of David Davis. Officers included Jim Brewbaker, president;[1] Michael Stillman, manager; Hendrik Booraem, V, historian; and Eugene F. Russell, III, librarian. Thomas Warburton was the accompanist.
Performances
Edit
This roster includes the members of the Glee Club during the season according to Corks and Curls, and thus may not be a complete list of the members.[2]
Neil Davis (First Tenor section leader), Willard D. Winn (Second Tenor section leader), Dominic E. Amadio, Robert F. Brady, Jr., Jerry Coffey, Alan Hollenbeck, Robert McCullough, James N. Pope, Anthony F. Guida, Willard G. Winn, F. Woody Fitzgerald, G. Martin Franck, Lee Groves, Chris Hutchinson, David H. Johnson, Alfred T. Merritt, John Murden, Chris H. Swenson, James Turner, Jr., Harold Van Patten, Jon G. Walker, William Cudlipp, III (Baritone section leader), Robert F. Darby, Jr., Frederick H. Dennis (Bass section leader), Peter M. Kilcullen, John S. Baymiller, Lance Cerny, Dallam Ferneyhough, Dale I. Foreman, Stanley Goldstein, Haw W. Harper, Randolph D. Mason, Frank J. McLeod, John K. Moorman, James A. Rogers, Charles Twining, Jr., Helmut Walter, Thomas Warburton, Frederick A. Dennis, John Ford Brent, Jim Brewbaker, Karl Bunkelman, Jr., Steel H. Colony, Alex Crosman, Barrie Gillis, Lawrence Hudnall, John Loder, Richard W. McBride, Thomas Pearce, Eccles Pridgeon, Robert B. Roberson, Lewis J. Roberts Jr., Eugene F. Russell III, James P. Smith, Lynn P. Stockberger, Guy K. Tower, Thomas P. Watson, Rich Booraem, Frederick L. Wedel, David Sinkler, W. Madison Burton, Scott Bachelor
References
Edit
Ad blocker interference detected!
Wikia is a free-to-use site that makes money from advertising. We have a modified experience for viewers using ad blockers

Wikia is not accessible if you've made further modifications. Remove the custom ad blocker rule(s) and the page will load as expected.