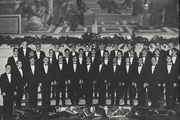 The
1967-1968 season of the Virginia Glee Club
was the fourth season for conductor
Donald Loach
. Officers of the group included
William R. Anderson
, president;
David B. Witt
, business manager;
H. Bryan Mitchell
, assistant business manager; and
William N. Wade
, librarian.
This roster includes all members listed in the Christmas Concert (1967) program or the 1968 Corks and Curls, and may not include all participants in the season.
First tenor: Robert B. Foster III, Richard Fredenburg, George Marshall Kraus, Markham VanFossen Lewis Jr., Michael A. McCallister , Bruce MacDougal, John C. McCall Jr., Ralph Pitman, Mark A. Thompson
Second tenor: William R. Anderson, Jerry P. Carr, James Jones, H. Bryan Mitchell
First Baritone: M. Campbell Cawood, Gary S. Farr, Stephen Olin, Thomas F. Smith, David L. Temple, Jr., David B. Witt
Second Baritone: Gregory K. Brewer, Kenneth R. Buckingham, Richard Covington, Robert Crawford, Michael E. Harris, Samuel H. Pettway, William N. Wade, Alan B. Wambold
Bass: James L. Bell, II, Craig Caputo, Gary Chorney, Gregory M. Ivy, J. Hunter McDaniel, Delmas Moore, Thomas O. Schricker, Nicholas P. Tulou, G. Scott Walker, G. Bradford Wolcott, Richard L. Yoder
Ad blocker interference detected!
Wikia is a free-to-use site that makes money from advertising. We have a modified experience for viewers using ad blockers

Wikia is not accessible if you've made further modifications. Remove the custom ad blocker rule(s) and the page will load as expected.