The 1971-1972 season of the Virginia Glee Club featured the Glee Club's first European tour and the release of its album A Shadow's on the Sundial. Donald Loach was the musical director during the season. The officers were John R. Wood, president; Richard S. Hanger, business manager; Edward Alexander Silver, assistant business manager; and James Richardson, librarian.
The following roster was listed in the program for the Benefit Concert for the European Tour Fund (1972) and may not include all members of the Glee Club during the season.
Tenor I: Richard M. Austin, Louis G. Burkot, Jr., Nicholas T. Cook, III, Gary S. Copenhaver, Robert R. Hagan, Jr., Jonathan M. Jay, Terrance McGovern, Gregory J. Molner, Paul A. Pope, Jeffrey L. Reider, Gary Rosenzweig
Tenor II: Gary J. Aichele, Michael W. Culbertson, Patrick Lynn Garner, Richard S. Hanger, Mark Lawson, Chris Massey, Charles C. Mayhew, III, John R. Pherson, E. Alexander Silver, Norman M. Warren
High Baritone: Charles F. Burch, Jr., Peter T. Clarke, Claudie E. Denton, Jr., Charles W. Dixon, J. Christian Gordon, William David Hasty, Jr., Ellis B. Hilton, III, Richard S. Howell, William H. Jeschke, William S. Martin, Kenneth McCaskill, Duncan J. McCrea, Kim C. Shelton, Richard C. Viohl, Jr., John R. Wood, Stephen C. Yowell
Low Baritone: R. William Bayless, III, Scott T. Davis, John V. Jones, David Lingerfelt, James A. McLendon, Jr., Kenneth W. Waller
Bass: James T. Babb, R. Laird Boles, Lawrence E. Bradley, Wayne G. Coates, Derek P. Dutcher, Paul N. Evans, Randall S. Frye, Stephen R. Ledford, William S. Mulherin, James A. Niederberger, John W. O'Neill, James A. Recktenwald, Jr., James Richardson, Steven Smith, Lloyd F. Stamy, Jr.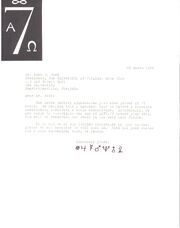 The Seven Society donated $177.77 to the European tour.