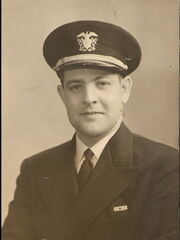 Ashley Guy Hope (September 8, 1914 in Norfolk, Virginia – September 6, 1982)[1] was president of the Virginia Glee Club during the Glee Club 1934-1935 season. He also served as manager in the Glee Club 1933-1934 season. In the Glee Club 1935-1936 season he was a member of the Glee Club Quartet.
At the University of Virginia, Hope studied law.[2] He lived in 39 West Lawn[3] in 1935–1936.
After graduating from Virginia, Hope entered the foreign service, serving as consul in Shanghai, Tel Aviv, and other places, and authored a number of books about diplomacy, including Symbols of the Nations and America and swaraj: the U.S. role in Indian independence (1968), and a memoir, Journal of a Journey.
References
Edit
Ad blocker interference detected!
Wikia is a free-to-use site that makes money from advertising. We have a modified experience for viewers using ad blockers

Wikia is not accessible if you've made further modifications. Remove the custom ad blocker rule(s) and the page will load as expected.