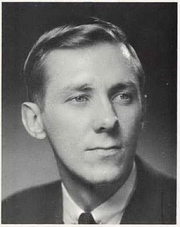 John Kenneth Moorman served as president of the Virginia Glee Club during the Glee Club 1962-1963 season, according to the program for the Christmas Concert (1962); by the time of the 1963 concert with Mary Washington in May of 1963, he was no longer listed as president. He had also served as librarian during the Glee Club 1961-1962 season. He lived in 48 East Lawn[1] in 1962–1963.
Moorman was a degree candidate in 1963. While at the University of Virginia he was also a member of Alpha Tau Omega, Jefferson Society, University Union, and the varsity tennis team.[2]
References
Edit
Ad blocker interference detected!
Wikia is a free-to-use site that makes money from advertising. We have a modified experience for viewers using ad blockers

Wikia is not accessible if you've made further modifications. Remove the custom ad blocker rule(s) and the page will load as expected.