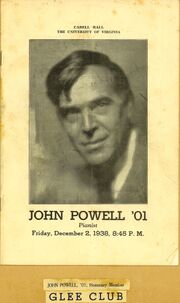 John Powell (September 6, 1882 in Richmond, Virginia – August 15, 1963),[1] an American composer and white supremacist, was an honorary member of the Virginia Glee Club.[2]
Powell graduated from Virginia in 1901. He was active as an alumnus, holding a concert series at Carnegie Hall in 1938 and donating the proceeds to Alderman Library, which used them to purchase letters written between Thomas Jefferson and Joseph C. Cabell.[3] His students included Ernest Mead.[4]
Powell was a white supremacist who helped to form an organization at the University called the Anglo-Saxon Clubs of America. The organization, whose president was Dr. Paul B. Barringer, sponsored the Racial Integrity Act of 1924,  Virginia state legislation making intermarriage between whites and those with a "single drop of Negro blood."[5] The Racial Integrity Act was used to charge Richard and Mildred Loving with miscegenation; the subsequent Loving v. Virginia lawsuit established once and for all that anti-miscegenation laws were unconstitutional, thereby legalizing mixed race marriage in the 15 states where it had been outlawed.[6]
References
Edit
Ad blocker interference detected!
Wikia is a free-to-use site that makes money from advertising. We have a modified experience for viewers using ad blockers

Wikia is not accessible if you've made further modifications. Remove the custom ad blocker rule(s) and the page will load as expected.