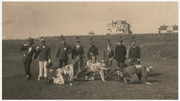 Lambda Pi
 was an 
honor society
 at the 
University of Virginia
. It has been variously described as honorary and one of two "political parties" that stood candidates for University offices.
[1]
Lambda Pi was founded in 1896, and included two Virginia Glee Club alumni as founding members, Rockwell Smith Brank and Herbert Old.[2] The latest Virginia Glee Club member identified as participating in Lambda Pi was Ridgely D. Miller, who was identified as a member in 1944. The party, along with its rival Skull and Keys, voted itself out of existence in 1969.[3]
Main article: Category:Lambda Pi members
References
Edit
Ad blocker interference detected!
Wikia is a free-to-use site that makes money from advertising. We have a modified experience for viewers using ad blockers

Wikia is not accessible if you've made further modifications. Remove the custom ad blocker rule(s) and the page will load as expected.