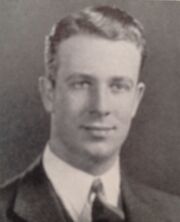 McDonald Wellford (February 24, 1913 – October 26, 1995)[1] was president of the Virginia Glee Club during the Glee Club 1936-1937 season, and was a member in 1932-1933, 1934-1935, and 1935-1936. A degree candidate in law in 1937, he was also a member of Delta Psi, Lambda Pi, the Jabberwock Society, the German Club, and the College Topics staff.[2]
References
Edit
Ad blocker interference detected!
Wikia is a free-to-use site that makes money from advertising. We have a modified experience for viewers using ad blockers

Wikia is not accessible if you've made further modifications. Remove the custom ad blocker rule(s) and the page will load as expected.