The 1968 Openings Weekend Concert of the Virginia Glee Club was the first concert of the 1968-1969 season. Donald Loach conducted the concert, which featured the University of Pittsburgh Men's Glee Club, Philip S. Cavanaugh, director. The concert was held November 15, 1968 in Old Cabell Hall.
A recording of this concert is available at the University of Virginia Library. The recording features excerpts from the concert.
1968 Openings Weekend program
Program, p. 1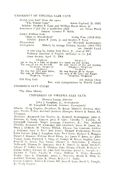 Program, p. 2/Roster 
Ad blocker interference detected!
Wikia is a free-to-use site that makes money from advertising. We have a modified experience for viewers using ad blockers

Wikia is not accessible if you've made further modifications. Remove the custom ad blocker rule(s) and the page will load as expected.