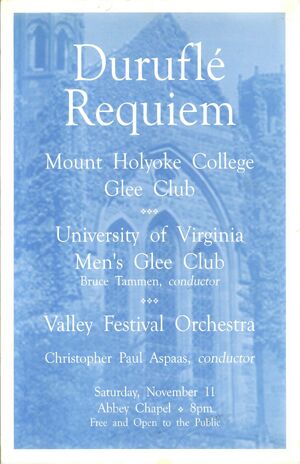 The 2000 Virginia Glee Club Roll to Mount Holyoke was directed by Bruce Tammen as part of the Glee Club 2000-2001 season. Culminating with a joint performance with the Mount Holyoke Glee Club of the Duruflé Requiem on Sunday, November 11, 2000 in the Abbey Chapel of Mount Holyoke College, the concert also featured the Valley Festival Orchestra.
Ad blocker interference detected!
Wikia is a free-to-use site that makes money from advertising. We have a modified experience for viewers using ad blockers

Wikia is not accessible if you've made further modifications. Remove the custom ad blocker rule(s) and the page will load as expected.