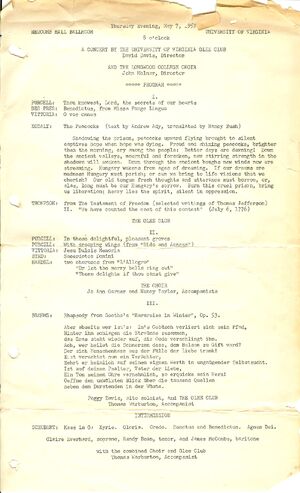 The 1959 Spring Concert of the Virginia Glee Club was conducted by David Davis as part of the Glee Club 1958-1959 season. Held May 7, 1959 in the Newcomb Hall Ballroom, the concert was a collaboration with the Longwood College Choir, John Molnar conducting.
A recording of this concert is available at the University of Virginia Library.
(The Glee Club)
In these delightful, pleasant groves (Purcell)
With drooping wings (from "Dido and Aeneas")
Jesu Dulcis Memoria (Vittoria)
Sacerdotes Domini (Byrd)
Two Choruses from "L'Allegro" (Handel)

"Or let the merry bells ring out"
"These delights if thou canst give"
(The Choir)
Rhapsody (from Goethe's "Harzeise im Winter," Op. 53) (Brahms)
Mass in G: Kyrie, Gloria, Credo, Sanctus and Benedictus, Agnus Dei (Schubert
(The combined Choir and Glee Club)
Ad blocker interference detected!
Wikia is a free-to-use site that makes money from advertising. We have a modified experience for viewers using ad blockers

Wikia is not accessible if you've made further modifications. Remove the custom ad blocker rule(s) and the page will load as expected.