The 1965 Gala Spring Concert of the Virginia Glee Club, on April 27, 1965, was a collaboration with the Westhampton College Glee Club, James Erb, director. Donald Loach directed the Virginia Glee Club as part of the Glee Club 1964-1965 season. The repertoire included the Bruckner Mass in E Minor and a Stravinsky cantata.[1] The program was repeated a few days later at the Concert at University of Richmond (1965).
A recording of this concert is available at the University of Virginia Library.
Mass in E Minor (Anton Bruckner) (Donald Loach, conducting)

Intermission
Cantata (Igor Stravinsky) (James Erb, conducting)
Psalm 8: Herr, unser Herrscher (Heinrich Schütz)
1965 Spring Concert: Music for Voices and Wind and Brass Instruments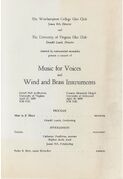 1965 Spring Concert, program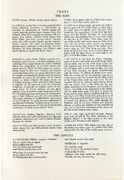 1965 Spring Concert, program notes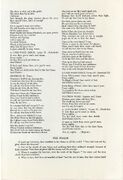 1965 Spring Concert, program notes cont'd  
1965 Spring Concert, rosters 
References
Edit
↑

Glee Club 1964 Christmas Concert program.
Program courtesy of the collection of Donald Loach.