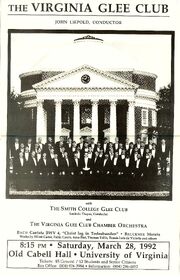 The 1992 Spring Concert of the Virginia Glee Club was conducted by John Liepold as part of the Glee Club 1991-1992 season. Held March 28, 1992 in Old Cabell Hall, the concert featured a guest performance by the Smith College Glee Club, Lucinda Thayer conducting, and a joint performance of the Bach cantata BWV 4, "Christ lag in Todesbanden." The concert, coming at the end of the Tour of the South (1992), also featured repertoire from the tour including the Arvo Pärt "De profundis," the Lamentations of Jeremiah, the Casals "O Vos Omnes," and others.
Ad blocker interference detected!
Wikia is a free-to-use site that makes money from advertising. We have a modified experience for viewers using ad blockers

Wikia is not accessible if you've made further modifications. Remove the custom ad blocker rule(s) and the page will load as expected.