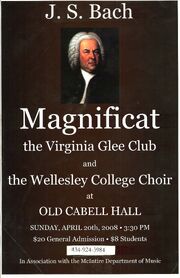 The 2008 Spring Concert of the Virginia Glee Club was conducted by Frank Albinder as part of the Glee Club 2007-2008 season. Held April 20, 2008 in Old Cabell Hall, the concert featured a joint performance of the Bach Magnificat with the Wellesley College Choir.
The Daily Progress wrote about the show:
The Virginia Glee Club will present Johann Sebastian Bach's "Magnificat" with the Wellesley College Choir at 3:30 p.m. Sunday in Cabell Hall Auditorium. "Magnificat" will be performed with an orchestra. The two groups also will perform works from their respective repertoires. The Virginia Glee Club will unveil a newly commissioned piece based on the poetry of Walt Whitman.[1]
A recording of this concert is available at
the University of Virginia Library
.
The Wellesley College Choir

Hosanna (Knut Nystedt (b. 1915))
Salmo 150 (Ernani Agiuiar (b. 1949))
O Viridissima Virga (Emma Lou Diemer (b. 1927))
Five Hebrew Love Songs (Eric Whitacre (b. 1970))

Temuna
Kala Kalla
Larov
Eyze Sheleg!
Rakut Lucy McVeigh, violin

Hark, I Hear the Harps Eternal (Arr. Alice Parker)
Finale (from The Gondoliers) (Gilbert & Sullivan)
The Road Home (Stephen Paulus (b. 1949)) (Davina Canagasabey, Laura Nellums, Simone Seol, Liz Strickland, soloists)
Alma Mater (Arr. Brian Hulse)

The Virginia Glee Club

Non Nobis, Domine (Rosephanye Powell (b. 1962) arr. William Powell)
Not Heat Flames Up and Consumes (We Two) (arr. Steven Sametz (b. 1954))
Lambscapes (Eric Lane Barnes (b. 1960))

Gregorian Chant
Handel
Schubert
Verdi
Orff
Sons of the Pioneers
Gospel

Shenandoah (arr. James Erb)
Vive L'Amour (arr. Alice Parker and Robert Shaw)
The Good Old Song (Traditional Scottish)

The Wellesley College Choir & The Virginia Glee Club
References
Edit
Ad blocker interference detected!
Wikia is a free-to-use site that makes money from advertising. We have a modified experience for viewers using ad blockers

Wikia is not accessible if you've made further modifications. Remove the custom ad blocker rule(s) and the page will load as expected.