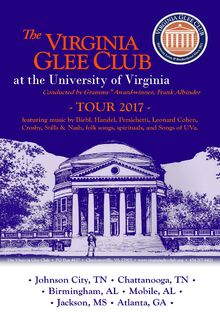 The 2017 Tour of the Southern States of the Virginia Glee Club took place March 3 – 8, 2017, with appearances conducted by Frank Albinder in Johnson City, Tennessee, Chattanooga, Tennessee, Birmingham, Alabama, Mobile, Alabama, Jackson, Mississippi, and Atlanta, Georgia. The tour was a major highlight of the Glee Club 2016-2017 season.
Frank chronicled the tour on his tour blog.
Itinerary
Edit
March 3: Johnson City, TN, with the East Tennessee State University BucsWorth Men's Choir at Munsey Memorial United Methodist Church
March 4: Chattanooga, TN, with the McCallie Men's Chorus and Voci Virilli at McCallie School -- planned, but cancelled due to bus breakdown
March 5: Birmingham, AL, at Southside Centre for the Arts & Humanities
March 6: Mobile, AL, at Trinity Episcopal Church
March 7: Jackson, MS at Fondren Church
March 8: Jackson, MS at Mississippi State Capitol
March 10: Atlanta, GA at Morehouse College (rehearsal exchange with the Morehouse College Glee Club)
Ad blocker interference detected!
Wikia is a free-to-use site that makes money from advertising. We have a modified experience for viewers using ad blockers

Wikia is not accessible if you've made further modifications. Remove the custom ad blocker rule(s) and the page will load as expected.