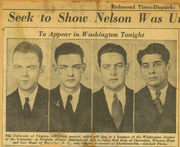 Vincent Tramonte (1916 - January 30, 1987) of Charlottesville, was a member of the Virginia Glee Club during much of the 1930s, appearing in the 1933-34, 1934-35, 1935-36, and 1939-1940 seasons, among others. He was part of the Glee Club Quartet during the Glee Club 1935-1936 season.
Tramonte received his undergraduate and law degrees from the University of Virginia and went on to practice real estate law in Arlington, VA. He also owned and operated the Bayou, "a Georgetown nightclub that featured Dixieland and rock music", and founded the Italian Store delicatessens in Arlington and Falls Church.[1]
References
Edit
Ad blocker interference detected!
Wikia is a free-to-use site that makes money from advertising. We have a modified experience for viewers using ad blockers

Wikia is not accessible if you've made further modifications. Remove the custom ad blocker rule(s) and the page will load as expected.