Contents
What's new
Contribute to this wiki
To write a new article, just enter the article title in the box below.
Not sure where to start?
Featured article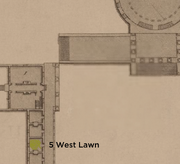 5 West Lawn
, one of the original student rooms designed by Thomas Jefferson on the University of Virginia Lawn, was for many years associated with the Virginia Glee Club and the Virginia Gentlemen. While not an endowed room, it has been occupied by a Glee Club member 21 recorded times, including a period of continual occupancy from 1976-1977 to 1993-1994.
Read more...
Past featured articles
Ad blocker interference detected!
Wikia is a free-to-use site that makes money from advertising. We have a modified experience for viewers using ad blockers

Wikia is not accessible if you've made further modifications. Remove the custom ad blocker rule(s) and the page will load as expected.